As 2019 came to a close, the band Cledus Snow Mother Truckers rocked out at The Garryowen Irish Pub.
Siblings Dan and Anne Gallagher were among the musicians hired by the traditional Irish bar on Gettysburg's Chambersburg Street to usher in 2020. The two had been making music since Dan taught his little sister how to play guitar more than 25 years ago.
"Every time he busted out a solo, I would just look over and watch him play. There was a lot of joy to be shared in that," Anne said.
Eight days later, the music paused. Dan was found unconscious from what was determined to be an unpredictable, incurable brain aneurysm.
The 48-year-old died the following day.
Nine of Dan's friends crowded around a table at The Garryowen last week to explain why what was supposed to be a two-hour wake at Monahan Funeral Home stretched to six hours. The next day, hundreds of people packed into Saint Francis Xavier Catholic Church for Dan's funeral.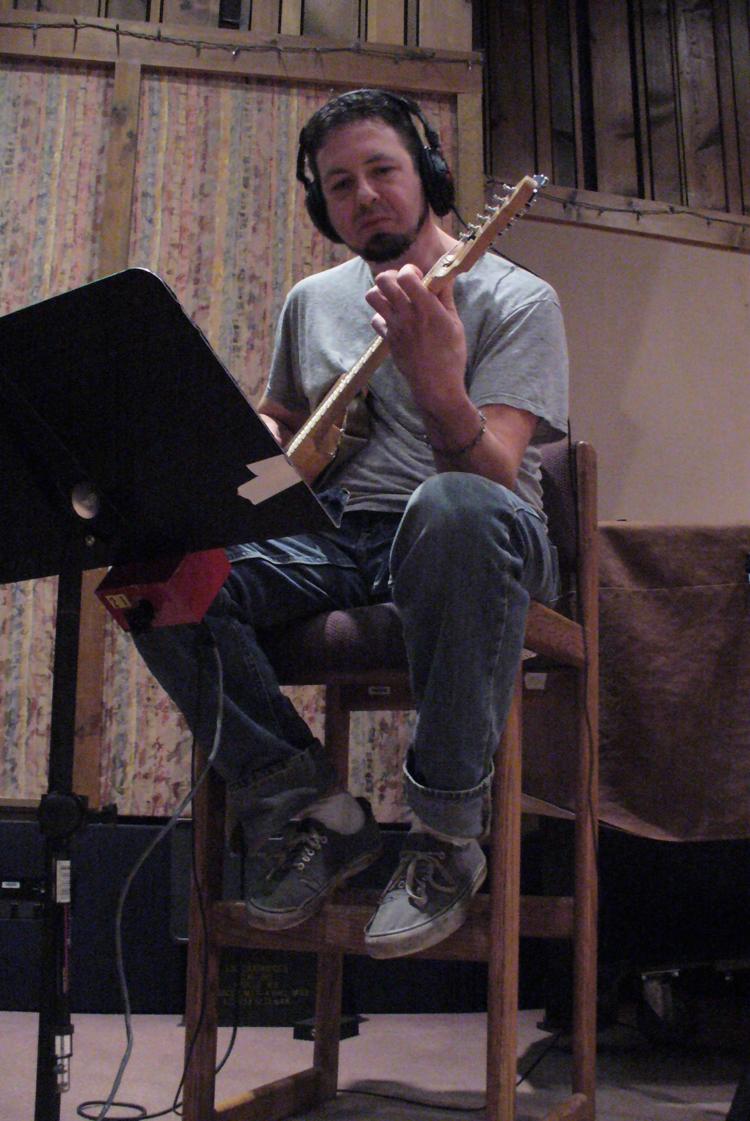 "He really invested in people," Dan's partner, Ali Freesland, said.
The Chambersburg native and friend Don Vincenti formed their first band, Ach Von Chas and the Spots of Tea, when they were 10 years old.
"We had our first single, "Swiss Cheese," which was literally heard by tens of people," Vincenti said.
The young duo wrote all their own music.
"It was never really a question if we were going to play or if we were going to have a band. It's just what we did," Vincenti said.
Emotion-filled, harmonic sounds brought Dan to Gettysburg. He worked at Noteworthy Music, which was located on York Street.
"He could repair anything from a tuba, he could make a violin from scratch," friend Andy Stout said, with Anne chiming in that Dan made a violin for their mother.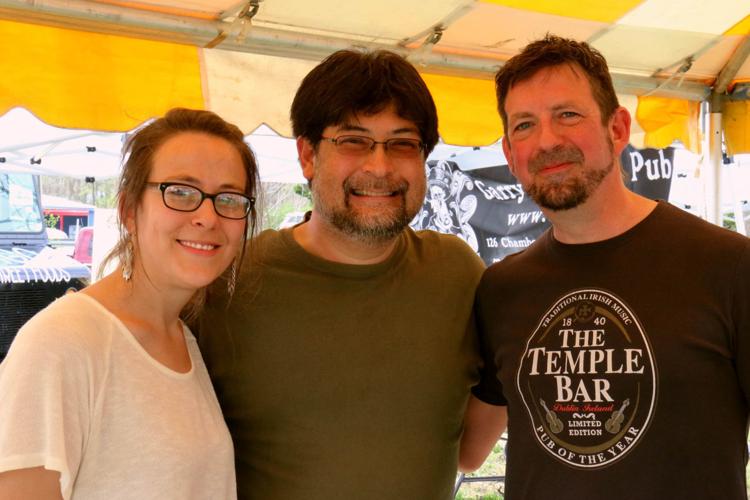 His reputation as an instrument doctor quickly grew, said friend Jared Helser.
"I met Dan when I took one of my guitars in for him to fix. From then on, he was the only one I would let touch any of my instruments," Helser said.
Dan was familiar with more than the instruments he worked on; he knew the musicians who played them. Friends said he would study how they would hold their guitar or position their body so he could tailor the piece to their personalities.
"You would get a $5,000 guitar that the guy who made it, who created it, could not breathe life into it the way that Dan could," friend Raye Morris said. "He wasn't a repair guy. He did something that was out of this world."
"A lot of it was him asking 'how can I make this person happy,'" Freesland said.
In the early 2000s, The Flying Bull on Carlisle Street began hosting open mic nights. Those gathered last week credit this as the birth of live music in Gettysburg.
Like he doctored instruments, Dan doctored this movement.
Morris recalls Dan lugging sound equipment weekly from Noteworthy to The Bull so musicians had a chance to play.
"That place would be so packed, it was unbelievable," he said.
Once in a while, Dan would step out from behind the sound system.
"He actually kept a guitar there at the soundboard and a mic so if someone needed backing vocals — or he thought they did — he would play along," Freesland said.
Live music at The Bull stopped after an ownership change, the gang said. One night in 2007, they were gathered around a corner table at The Plaza Restaurant on Lincoln Square when they heard about a new bar — Kevin and Joanne McCready's Garryowen Irish Pub.
"Dan said, 'one question, can I bring a guitar?'" Freesland said.
The friends arrived, guitars in hand, and began to play. Kevin McCready recalls thinking how he definitely wanted Dan to be a regular in his new watering hole.
"I closed up the bar and Dan and I sat here until like four in the morning, b-s'ing about everything," McCready said.
Dan's ability to carry on a conversation as well as he played music drew people to him.
"He could talk about football from the 70s, baking pies and Yorkshire pudding," Freesland said.
Helser called it "Gallagherizing." He recalled a night the two spent discussing Irish history into the early morning hours.
"He knew everything, he must have read about 20 books or something. And with every beer, he would get a little bit more angry," Helser said.
Everyone noted Dan didn't just talk, he engaged in conversation.
"He loved people so much. He got a lot of his energy from connecting with people in a loving way," Anne said.
Kevin McCready said that even though Dan had many friends, he shied away from large crowds.
"If he wanted to hang out, he wanted to hang out with you. He wasn't into getting attention," Kevin said.
Helser said he and Dan loved to sit at The Garryowen and see how many people they could meet in one night. McCready noted dozens of Gettysburg tourists have Dan stories, even though they only may have met him for an hour or two.
"He would have complete strangers singing with him on days there wasn't even live music scheduled. It'd be just a random Sunday afternoon," McCready said.
Days Dan was scheduled to play at The Garryowen, he was much less spontaneous. He took music seriously and instilled that in those with whom he took the stage.
"He practiced for practices," Dan Diviney said. "He wanted to have everything perfect."
Morris pointed out that Dan believed bands do not practice, they rehearse.
"He told us that practice is what you do at home and rehearsal is what you do when you're together," Morris said.
Dan's insistence on dedication steered him away from teaching most young musicians.
"He cared so much that if he was trying to invest something in somebody who didn't care that much, it was defeating," Anne said.
That mindset makes Anne especially grateful her brother took the time to teach her.
Anne has three older brothers, but said she was closest to Dan due to their age. After he moved to Gettysburg, they would talk about eventually living in the same town once again.
That opportunity presented itself when the McCreadys were searching for a bartender.
"He didn't say anything. He let Josh Fidler talk," Kevin said. "It wasn't until I met her that he said 'yeah, she's my sister.'"
It wasn't long before Anne was finding herself out from behind the bar and in the performance area with her brother/guitar teacher.
"I am not sure who enjoyed that more, me or Dan," Anne said. "I know he was very proud that I was achieving a level of musicianship and self-expression."
Dan's focus was always on the crowd, Diviney said.
"A lot of musicians will play a show in front of people. When Dan performed, it was like he was playing with the people," he said. "He interacted with them while he was playing. It was a special talent he had."
Dan had a unique ability to engage a crowd.
"He would just go over the noisiest group of people and serenade them and it would shut them up," Freesland said.
"But it was always kind. He never went over and was like 'I am a rockstar.' It was more like 'I want you guys to be a part of this,'" Anne added.
Freesland recalled one night when a group of seminarians from Mount Saint Mary's asked them to play show tunes, most likely as a joke.
"We said, 'we'll play them if you guys sing them,'" Freesland said. "We had those guys stomping on the floor. Downstairs, they thought the floor was going to cave in. You never knew what was going to happen."
Dan's ability to give himself to others did not stop when the brain aneurysm made him unconscious on Jan. 8. He was a registered organ donor — "even his liver, someone must be really desperate," his brother joked during his eulogy — so the family had to prolong the inevitable until recipients could be identified.
About 35 people crowded into the Gettysburg Hospital emergency room to support the family and say goodbye to their friends.
"The staff at the hospital were so amazing, respectful and kind to us throughout the entire process," Anne said.
Stout believes "we all probably have some work to do to get those crowds" that gathered in the emergency room, in the wake, and at the funeral; but they are committed to trying. That includes in their personal lives and working together to continue the local music scene that Dan built.
"It keeps going because it has to. Dan wouldn't want it any other way," Freesland said. "All of us, who are the musicians, want to keep it going. It's what we do, you don't give up on a passion."
As they move forward, they plan to keep the music and the people listening to it at the center of their attention — just like Dan.
"He didn't do anything for attention or money. He lived his life doing what he loved because he loved it," Anne said.