Eagles turn disappointment into fuel on final day of District 3 Track & Field Championships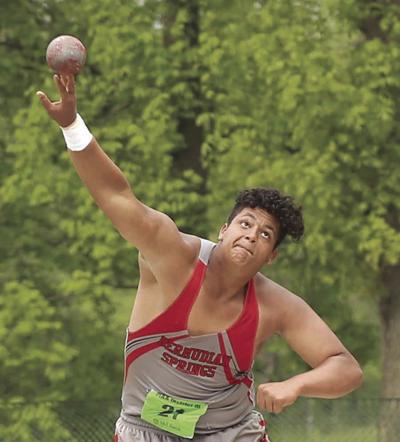 Bermudian Springs' District 3 Class 2A Track and Field Championship hopes went out with a whimper, but the Eagles made sure to leave the meet by going out with a bang.
The Bermudian boys finished second to Wyomissing at Saturday's event at Shippensburg University, trailing the Spartans 95-80.5 in the final team standings. The meet would have been a whole lot closer if their top-seeded 4x100 relay had gotten off the ground. A false start sent them walking off the track in a daze before they'd even begun to fight.
The Eagles worked through their frustration, producing some top times and several more PIAA qualifiers in the final seven 2A events of the day to make it a meet worth savoring.
Payton Rohrbaugh took second in the 110 hurdles (15.24) and 300 hurdles (39.94) to advance to states in each. Kolt Byers won the triple jump and placed third in the pole vault (13-6) with a state qualifying height. Thomas Bross crushed his PRs in the 200 (22.85) and the 100 (11.46) for second and third place, respectively.
Even Ryan Hart, who had been the one to misjudge the jump at the start of the team's favorite relay, made the emotion work best for him with a 51.40 performance in the 400, shaving a full second to take fourth. He said it was difficult to stop punishing himself for the infraction in the 4x100 relay.
"I hoped someone else did it too, so it wasn't on me," he said. "I felt some hatred for letting down my teammates. All that kept coming into my mind, but I knew no one else could (score for us in the 400) but me. I didn't worry about anyone else and it might have helped me in the other events."
Rohrbaugh, Bross, Hart and Cameron Brenneman finished off the afternoon with a state-qualifying second place in the 4x400 relay, ensuring that all who missed out on the 4x100 would be back in Shippensburg next weekend.
"It definitely feels good to get something done that I wanted to today," Rohrbaugh said.
Despite advancing to states in two events, Rohrbaugh wasn't thrilled with his afternoon. He was unable to surpass the guy who has become his friend and hurdling foe, Littlestown's Derek Herr, in either of his main events.
"Today I definitely did not run the way I wanted to, stomping down the first hurdle in the 110s this morning," Rohrbaugh said. "None of my steps were on. In the 300, Derek and I were neck and neck, but that messed me up. I dragged myself over the last hurdle.
"I have to clean up my form and get ready for this coming weekend. Stuff happens and you can't do anything about it. You pick yourself up and keep going."
Bross spent all season trying to break 23 seconds in the 200. He beamed with pride, standing on the penultimate step of the medal platform. He led the race until the final 40 meters when Tulpehocken's Zachary Risser surged ahead.
"Me and that kid had the same times all weekend," he said. "I was nervous all day yesterday, but I came in ranked first today and didn't know what to think. We were right there the whole time. It was pretty crazy."
Bross was pumped to have his friend and former teammate, Ryan Curfman, at the meet supporting him. Bross needs to shave another third of a second to beat his buddy's school record.
"He told me he was nervous for me," Bross said. "He wanted to get out on the field to help us warm up, but he wasn't allowed. He made sure I was mentally ready for all the races."
Byers was satisfied with his placement in the pole vault, considering the height. He said he'll work to get on a bigger pole next week. As for the triple jump, he would only have been happier if he'd broken the school record. He'll go to states in both events, as well as the high jump.
"I have a lot of work to do this week. I don't have to worry about the 4x100 anymore," he said. "My step was four feet off today. It might have been anger, I guess. I've never had to change a mood I was in for an event, but it worked out.
"Ryan had a great 400 run. It is what it is and we move on from here. This is the closest team I've been a part of. Yeah, we're all mad, but we keep talking each other up. We're close, so it's not hard to build someone up after a mistake. Everyone makes them at some point."
Bermudian Springs junior Joe Cooper continued a surge in the shot put, taking fourth place with a second consecutive week shooting 47 feet. Not bad for a first-year thrower.
"I had to work on some form," he said. "I was bending over too much and throwing a line drive. Standing up a little more gave me some arch. Beginning of the year it wasn't really there, but toward the end I started getting it. Now I'm here."
Bermudian senior Ryan Lauver was seventh with a 45-5.75 toss.
"It'll definitely be really different being the only high-scoring thrower on the team," Cooper said. "Ryan gives me rides home every day. We talk about everything. We were friends before track and we've just gotten closer."
See Tuesday's Gettysburg Times for more from the District 3 Track & Field Championships.
Adam Michael can be reached at amichael@gburgtimes.com. Follow on Twitter at @GoodOldTwoNames
District 3 Track & Field Championships
Saturday – Shippensburg University
Top 8 finishers each event plus Times Area athletes/teams
BOYS
Class 3A
Team: 1. Central Dauphin East (CDE) 56, 2. Carlisle (Car) 39, 3. Chambersburg (Cham) 36, 4. Cumberland Valley (CumV) 34, 5. Warwick (War) 31, 6. Harrisburg (Har) 30, T7. Lampeter-Strasburg (LS) & Manheim Twp. (MT) 28, 9. McCaskey (McC) 27, T10. Ephrata (Eph) & Berks Catholic (BC) 25, T12. Manheim Central (MC) & Mechanicsburg (Mech) 24, 14. Conestoga Valley (ConV) 22, 15. Milton Hershey (MH) 19, T16. Cedar Crest (CCr) & Penn Manor (PM) 18, 18. Northern (Nor) 17, T19. Hershey (Her) & Fleetwood (Fleet) 16, 21. Twin Valley (TV) 14, 22. Red Lion (RLi) 12, 23. Wilson (Wil) 11, 24. Governor Mifflin (GM) 10; 25. Susquehanna Twp. (ST) 9.5, T26. Cocalico (Coc) & Shippensburg (Ship) 9; 28. Eastern York (EY) 8; T29. Palmyra (Pal), Reading (Read) & Exeter Twp. (Exe) 7; T32. Spring Grove (SG) & York Suburban (YS) 6; T34. Hamburg (Ham), Gettysburg (Get) & West Perry (WP) 5; T37. West York (WY), Red Land (RLa) & Eastern Lebanon County (ELCO) 4; T40. Elizabethtown (Eli), Northern Lebanon (NL), Hempfield (Hemp) & Conrad Weiser (CW) 3; 44. South Western (SW) 2.5; T45. Lower Dauphin (LD), Lebanon (Leb), New Oxford (NO) & Kutztown (Kutz) 2; 49. Bishop McDevitt (BM) 1
4x800 relay: 1. Cedar Crest 7:51.77, 2. Warwick 7:56.01, 3. Twin Valley 7:56.04, 4. Cumberland Valley 7:57.26, 5. Carlisle 8:00.87, 6. Chambersburg 8:01.06, 7. New Oxford 8:06.80, 8. Palmyra 8:07.94
110 hurdles: 1. Niang (CDE) 14.36, 2. Martin (EY) 14.68, 3. Parris (MH) 14.70, 4. Smith (RLi) 15.08, 5. Hunt (RLa) 15.26, 6. Miller (CCr) 15.42; False start: Jenkins (ST), Reich (Ship)
100: 1. Brown (CDE) 10.63, 2. Day (Har) 10.64, 3. Worrell (Cham) 10.64, 4. Kent (Har) 10.81, 5. Bruno (Mech) 10.89, 6. Rodriguez (McC) 11.05, 7. Boback (Car) 11.07, 8. Baker (CDE) 11.19
1600: 1. Dorenkamp (MT) 4:17.65, 2. Shue (Eph) 4:19.02, 3. Gruceleski (ConV) 4:19.79, 4. Ermold (GM) 4:21.34, 5. Wisner (Car) 4:22.28, 6. Rittenhouse (Hemp) 4:23.31, 7. Miller (MT) 4:23.98, 8. Knepper (Mech) 4:24.26
4x100 relay: 1. CD East 41.10#, 2. Chambersburg 42.16, 3. McCaskey 42.47, 4. Warwick 43.01, 5. Cumberland Valley 43.07, 6. Shippensburg 43.12, 7. Lower Dauphin 43.19, 8. Red Lion 43.23. # New District 3 record, breaking previous mark of 41.32, set by Harrisburg in 1998
400: 1. Brown (CDE) 47.92, 2. Jaisingh (CumV) 48.11, 3. Bruno (Mech) 49.03, 4. Noah Sanders (Get) 49.13, 5. Williams (CumV) 49.13, 6. Jessup (RLi) 49.28, 7. Mowbray (PM) 49.72, 8. Oliver (Har) 50.35; 17. Connor Becker (NO) 51.62
300 hurdles: 1. Manning (McC) 38.45, 2. Reed (MC) 39.23, 3. Paskey (YS) 39.48, 4. Snavley (ConV) 39.75, 5. Boyd (Exe) 39.93, 6. Heisey (Eli) 40.13, 7. Parris (MH) 40.20, 8. Zimmerman (Coc) 40.26; 18. Dustin Edwards (SW) 42.22
800: 1. Shue (Eph) 1:56.16, 2. Dorenkamp (MT) 1:56.33, 3. Wisner (Car) 1:56.72, 4. Servis (TV) 1:57.44, 5. Shields (War) 1:57.65, 6. Schlegel (TV) 1:58.16, 7. Klick (Leb) 1:58.22, 8. Scicchitano (CCr) 1:58.46; 10. Tayshawn Golden (NO) 1:58.97, 13. Dawuan Golden (NO) 2:01.23
200: 1. Mellinger (LS) 21.54, 2. Sh. Brown (CDE) 22.02, 3. Manning (McC) 22.12, 4. Bruno (Mech) 22.18, 5. St. Brown (CDE) 22.19, 6. Jessup (RLi) 22.24, 7. Fegley (War) 22.41, 8. Kent (Har) 22.58
High jump: 1. Good (War) 6-8, T2. Cardina (ConV) & Mato-Segura (Read) 6-4, 4. Wittmeyer (BC) 6-4, 5. LaManna (WY) 6-2, T6. Edwards (SW) & Allen (ST) 6-2
Long jump: 1. Mellinger (LS) 23-9, 2. Rivers (MC) 21-9.25, 3. Martin (SG) 21-9, 4. Lomax (Har) 21-8, 5. Suero (Ship) 21-5.5, 6. Ravenel (Car) 21-5.5, 7. Rossi (CumV) 21-3.5, 8. Bawmungwa (ConV) 21-1; 11. Abdul Janneh (NO) 20-8.75
Discus: 1. George (BC) 178-4, 2. Kline (Fleet) 154-5, 3. Miller (Wil) 154-5, 4. Harmon (Cham) 153-0, 5. Hoover (Coc) 152-0, 6. Lambrecht (NL) 148-3, 7. Moore (CCr) 147-6, 8. Barrett (Nor) 145-6
Javelin: 1. Suminski (Her) 200-9, 2. Barrett (Nor) 192-11, 3. Gibson (PM) 186-1, 4. Radonovich (WP) 185-7, 5. Nauman (ELCO) 184-5, 6. Stout (Exe) 182-3, 7. Vazquez (McC) 175-10, 8. Stoeffler (LS) 173-4
Class 2A
Team: 1. Wyomissing (Wyo) 95, 2. Bermudian Springs (Berm) 80.5, 3. Schuylkill Valley (SV) 63.5, 4. Millersburg (Mil) 61, 5. Littlestown (Lit) 51, 6. Camp Hill (CH) 45.5, 7. Lancaster Catholic (LC) 41, 8. Annville-Cleona (AC) 39, 9. Trinity (Trin) 38, 10. Tulpehocken (Tulp) 34, 11. Lancaster Mennonite (LM) 28, 12. Oley Valley (OV) 21, 13. Fairfield (FF) 20, 14. Greenwood (Green) 17, T15. Delone Catholic (DC) & Hanover (Han) 13, 17. Biglerville (Big) 12, 18. Upper Dauphin (UD) 11.5, 19. Susquenita (Sus) 9, 20. West Shore Christian (WSC) 7, 21. Harrisburg Christian (HC) 2
4x800 relay: 1. Wyomissing 8:12.00, 2. Oley Valley 8:14.71, 3. Schuylkill Valley 8:17.48, 4. Camp Hill 8:25.12, 5. Lancaster Catholic 8:31.07, 6. Trinity 8:32.38, 7. Greenwood 8:32.81, 8. Upper Dauphin 8:40.65; 9. Biglerville 8:57.63
110 hurdles: 1. Derek Herr (Lit) 14.73, 2. Payton Rohrbaugh (Berm) 15.24, 3. Jack (CH) 15.74, 4. Zachary Reck (Han) 15.91, 5. Reitnouer (SV) 15.94, 6. Schreffler (UD) 16.27, 7. Boyer (AC) 16.64, 8. Malcolm Gerlach (Han) 16.90
100: 1. Risser (Tulp) 11.28, 2. Moran (AC) 11.30, 3. Thomas Bross (Berm) 11.46, 4. Lehman (Mil) 11.48, 5. Gonzalez (SV) 11.53, 6. Lawrence (LC) 11.46, 7. Porter (Trin) 11.70, 8. Stump (Sus) 11.90
1600: 1. Horst (LM) 4:26.21, 2. Bucher (Trin) 4:30.20, 3. Rosenberry (WSC) 4:32.59, 4. Vargo (Wyo) 4:34.52, 5. Mavretic (Mil) 4:37.68, 6. Ferrizzi (OV) 4:38.39, 7. Moore (LC) 4:42.56, 8. Tshudy (AC) 4:43.08
4x100 relay: 1. Lancaster Catholic 45.07, 2. Millersburg 45.12, 3. Susquenita 45.32, 4. Wyomissing 45.34, 5. Schuylkill Valley 45.39, 6. Tulpehocken 46.16, 7. Camp Hill 46.19, 8. Trinity 46.57; 10. Fairfield 46.84; False start: Bermudian Springs
400: 1. Taylor (Wyo) 50.39, 2. Moran (AC) 50.95, 3. Stout (Mil) 51.39, 4. Ryan Hart (Berm) 51.40, 5. Titus (LC) 52.03, 6. Weaver (Mil) 52.13, 7. Hurleman (Wyo) 52.91, 8. Ritchie (CH) 53.10; 10. Chris Shaffer (FF) 53.68, 15. Cameron Brenneman (Berm) 57.17
300 hurdles: 1. Herr (Lit) 38.99, 2. Rohrbaugh (Berm) 39.94, 3. Reck (Han) 42.76, 4. Garrett Stadler (FF) 43.45, 5. Foerster (CH) 43.53, 6. Reitnouer (SV) 43.67, 7. Schreffler (UD) 43.92, 8. Puleo (HC) 43.94; 14. Gerlach (Han) 44.83, 5. Dameon Nelson (Berm) 46.85
800: 1. Seymour (SV) 1:58.74, 2. Bucher (Trin) 2:00.17, 3. Loy (Green) 2:03.01, 4. Predmore (Trin) 2:03.58, 5. Foster (Wyo) 2:03.78, 6. Kemble (CH) 2:03.85, 7. Kuhn (Wyo) 2:04.33, 8. Rosenberry (WSC) 2:05.30; 14. Shaffer (FF) 2:18.56
200: 1. Risser (Tulp) 22.76, 2. Bross (Berm) 22.85, 3. Lehman (Mil) 23.56, 4. Lehman (AC) 23.62, 5. AJ Knobloch (DC) 23.70, 6. Ahmed (Wyo) 23.76, 7. Titus (LC) 23.94, 8. Marcus Pruy (FF) 24.06
Pole vault: 1. Myers (CH) 14-0, 2. Waldhausen (AC) 14-0, T3. Kolt Byers (Berm) & Milanek (SV) 13-6, 5. Carter Tatara (Big) 13-6, 6. Porter (SV) 13-0, T7. Pierson (Tulp) & Stricker (Tulp) 12-6; 14. Knobloch (DC) 11-0
Triple jump: 1. Byers (Berm) 44-0.75, 2. Stout (Mil) 42-5.25, 3. Dante Elliot (Lit) 41-10.75, 4. Bastien-Vibrun (SV) 41-6.25, 5. Sauer (LC) 41-0.25, 6. Caine (LC) 40-11.25, 7. Jayden Weishaar (Lit) 40-7.5, 8. Kyle Garman (Han) 40-5.25; 14. Pruy (FF) 36-5.75
Shot put: 1. Travis Zimmerman (FF) 51-6.75, 2. Niedrowski (Wyo) 51-0.5, 3. Mott (Trin) 49-1.5, 4. Mountz (SV) 47-6.5; 5. Joe Cooper (Berm) 47-0, 6. Williams (Wyo) 45-10, 7. Ryan Lauver (Berm) 45-5.75, 8. Isaac Almoney (DC) 45-1.75, T11. Dylan Morey (Lit) & Kalen Sharrah (Big) 42-7.75, 13. Tre Adams (Big) 42-1