Kessinger lives up to billing, shuts out Bolts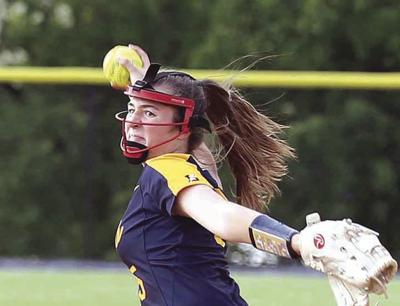 Littlestown head coach Jeff Laux called Spring Grove's Hailey Kessinger "the best pitcher in the YAIAA this season." Kessinger showed why, as she helped the Rockets to a 9-0 victory in the semifinals of the YAIAA softball tournament on Wednesday evening at New Oxford.
Kessinger fired a two-hit shutout over the first five frames before being lifted to gain some rest ahead of today's championship meeting with Delone Catholic. She struck out nine and walked two.
"We hadn't seen anyone like her this season," Laux said. "Except for when we faced her in a scrimmage before the season."
Littlestown (16-5) had runners on base in each of the first three innings, but came away empty each time.
Jada Mummert worked a one-out walk in the first inning, Bailey Smith had a leadoff single in the second and Carli Thayer doubled to start the third. Kacie Frock walked with two down later in the third, but Kessinger was able to get out of the jam each time.
"Hailey is a very good pitcher," Spring Grove head coach Mark Hull said. "She ran a lot of counts to 3-2 today and to only walk two batters when you do that is good."
Spring Grove (19-1) scored single runs in the first and second innings with Hannah Gartrell doubling home Olivia Lillich in the first and Lillich's sacrifice fly plating courtesy runner River Schneeman, who took over at second for Kessinger after she doubled to start the inning.
The Rockets broke the game open in the fourth with a four-run rally that was keyed by a two-run double by Gartrell and a run-scoring single by Lillich.
Then in the fifth, Spring Grove added tallied three more times with Lillich's triple and Bryn Sporer's double being the key knocks of the inning.
"You have to tip your cap to Spring Grove, they're an excellent team," Laux said. "They're going to go a long way in the postseason this year."
While his team won easily on the scoreboard, Hull was impressed with some of what he saw from the Thunderbolts.
"Their pitcher (Amaya Bowman) is very good, she throws a lot of strikes," Hull said. "I don't think they've seen a pitcher like Hailey, but they did a good job of shortening up their strides and putting the ball in play."
Smith led the way with two of Littlestown's three hits, while the Rockets' 13-hit attack was led by three hits each from Kessinger and Lillich and two hits from Sporer, Gartrell and Chloe Sullivan. Lillich and Gartrell drove home two runs apiece.
The District 3 Class 3A tournament awaits for the Bolts. They have earned the No. 2 seed and the bye that comes with it, meaning their next action will be a home game in the semifinals next Thursday against the winner of Kutztown/Trinity. A win there would earn them a berth in the district final and the PIAA tournament.
A loss would end their season.
"Ever since December, when we were working in the gym, our goal has been to compete for a district title," Laux said. "We'll have that chance starting next Thursday."
Follow Tom Sixeas on Twitter at @TomSixeas
Littlestown 000 000 0 — 0 3 0
Spring Grove 110 430 x — 9 13 0
Amaya Bowman and Bailey Smith; Hailey Kessinger, Sara Jones (6) and Olivia Lillich. WP: Kessinger. LP: Bowman. SO-BB: Bowman 5-3; Kessinger 9-2, Jones 1-0. 2B: L-Carli Thayer; SG-Hannah Gartrell 2, Bryn Sporer, Bailey Rapson, Kessinger. 3B: SG-Lillich.